2023 Maserati Ghibli in Toronto, Ontario
Performance

Exterior Design

Interior Design

Technology

Safety

Trims
Maserati Ghibli at Maserati of Toronto
When you think of the word "sedan" get ready to change your definition when you see the 2023 Maserati Ghibli. This is not your ordinary sports sedan. The 2023 Ghibli is highlighted by legendary Italian design coupled with modern sensibilities, performance that thrills around every corner, advanced technology and protective safety systems. Truly defy the ordinary by driving the new 2023 Ghibli. Follow along with our team at Maserati of Toronto as we introduce you to this unique sedan, the 2023 Maserati Ghibli, available for all of our local Toronto customers.
Craftmanship and Performance
The 2023 Ghibli hits the road with power bred for a racetrack, and handling fit for one as well. Turbocharged V6 or V8 engines are available, depending on your trim level, both providing exceptional power from this sedan. A ZF 8-speed transmission is matched to the engine, which is able to modify to your shift patterns to deliver an adaptive drive. Supportive features make for a comfortable drive amongst all that power, with a Skyhook suspension, top tier brakes and a sleek, aerodynamic body. The Intelligent All-Wheel Drive ability means that even when the weather turns south here in Toronto your Ghibli won't become any less capable, ready to handle any kind of environment. Whether you're after a thrilling ride, or just a simple commute, the Ghibli can handle it all.
Engine
3.0L Twin-Turbocharged V6
Transmission
ZF 8-speed automatic
Acceleration (0-100 km/h) (secs)
4.7
Fuel Consumption (combined) (L/100 km)
11.9 - 12.0
Perfectly sculpted with gorgeous curves and flowing lines, the 2023 Ghibli presents a coupe-like style with sedan functionality. Everything starts with the signature grille at the front, highlighted by the Maserati trident and full LED Adaptive Matrix Headlamps. The rear features its own unique style, taking cues from the Maserati 3200 GT and its boomerang-style rear lights, providing bright illumination. Across the Modena Q4 and Trofeo trims, you'll find the Ghibli model that works for you, always representing the best in a Maserati combination of sport style and luxury. And, if you want more, explore the available Nerissimo and Nerissimo Carbon packages.
Driver-Focused Interior
The Ghibli is a vehicle that truly knows what it means to drive a sedan of this ilk, connecting to the driver through multiple points of the steering wheel, gearshift paddles and accelerator to create a thrilling and passionate ride.
Fine Detail Italian Craftsmanship
The luxurious Italian style of the Ghibli is no more present than inside the vehicle, with handcrafted and fine-detail materials adorning the interior. When you enter a Maserati such as the Ghibli you can expect the finest and most exclusive upholstery.
Wireless Charging Capability
As sporty and luxurious as the Ghibli is, it is also complemented by the best in modern tech. Its wireless charger provides a simple ability to charge your smartphone in its designated charging hub. Even when it's charging you can still mirror all of your favourite apps to the infotainment screen.
From interacting with the Ghibli, to enjoying the best in sound fidelity to getting the most out of your drive, there's a helpful piece of technology to assist you.
Infotainment Systems
The Maserati Intelligent Assistant is better than ever in its new generation, perfectly calibrated to provide a customized experience for the user. Its touchscreen features a crisp graphic interface for easy navigation and assistance. As well, stay seamlessly connected to your Ghibli at all times thanks to Maserati Connect. From service alerts to assistance in case of emergency, along with an integrated navigation system, your ownership experience is always taken care of when you drive a Maserati.
Drive Modes
Normal (normal and auto), Sport (manual and auto), I.C.E. (Increased Control & Efficiency) and Corsa (only on the Trofeo) are all available driving modes that provide a specialized experience in accordance with your surroundings.
Dual-Pane Glass
Enjoy your own tranquil environment inside the Ghibli thanks to dual-pane laminated glass that isolates you from outside noise and lets you get fully immersed in your music, podcasts or conversation inside your Maserati.
Sound System Options
The Ghibli can be found with one of two sound systems, either the Harman Kardon Premium Sound System or the Bowers & Wilkins Surround Sound system.
A Maserati vehicle is typically focused around the intersection of luxury and performance, but another key element that makes our vehicles such a winning combination is the advanced safety systems found onboard as well. Level 2 Advanced Driving Assistance Systems is the prime highlight of safety features on the Ghibli, providing you with top-level autonomous driving. As well, Active Driver Assist keeps another set of eyes on the road, keeping you safe from other vehicles and centred in your lane. Should a danger be ahead, this system will warn you of its presence.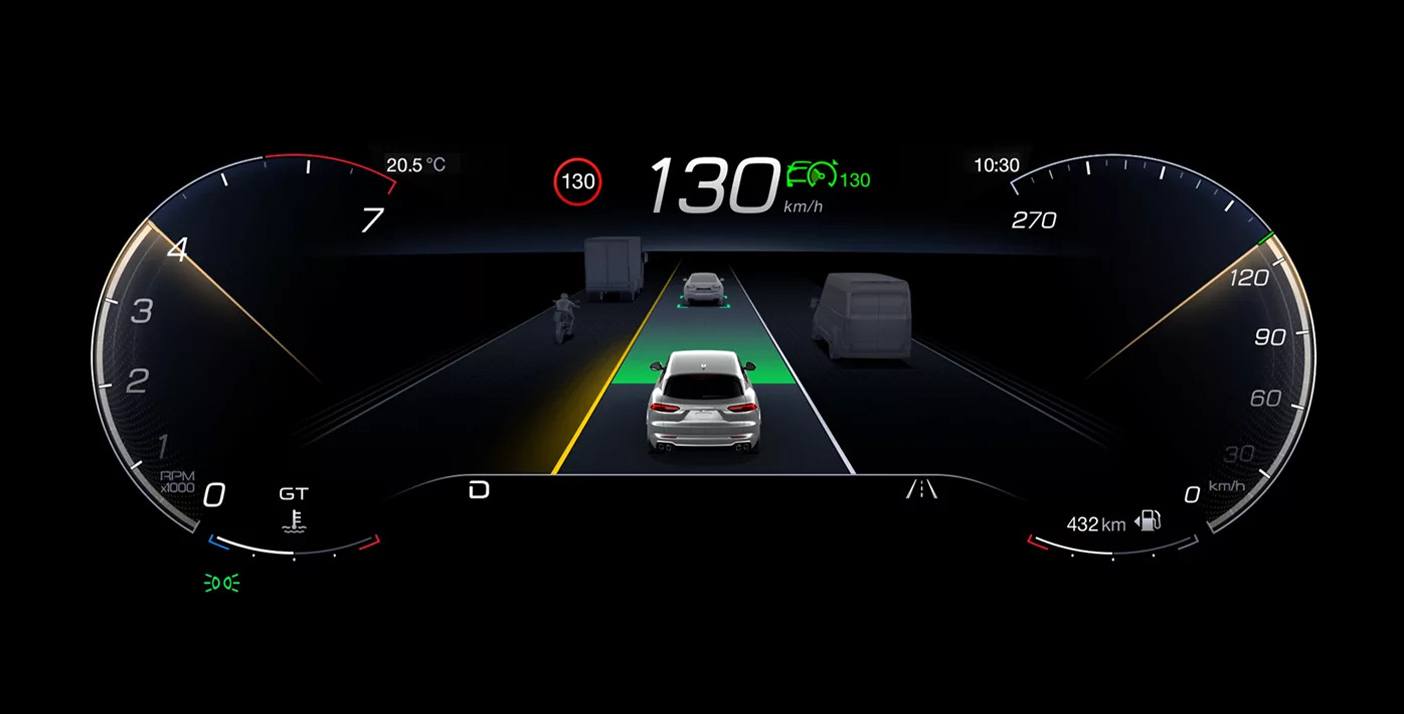 2023 Maserati Ghibli Trim Levels
V6 Engine

424 Horsepower

286 km/h max speed

All-wheel drive
V8 engine

572 horsepower

326 km/h max speed

Rear-wheel drive
For those looking for a luxury shopping experience here in Toronto, there's no better location to have all your needs met than here at Maserati of Toronto. Explore our new and used inventory of Maserati vehicles, receive service for your current model, order parts & accessories and more. Contact us to start your buying journey today, or if you just have a few questions.