Perfomance

Exterior Design

Interior Design

Technology

Safety
2021 Maserati Ghibli in Toronto
Prove your uniqueness on the road in the 2021 Maserati Ghibli, effortlessly blending racing performance with elegant luxury. Sedan functionality in a slick coupe-like shell, the Ghibli maintains a winning combination anyway you look at it. Introduced all the way back in 1966, the initial Ghibli was born with an insatiable need to be better and to succeed, and the 2021 edition takes up this mantle and pushes the Maserati into the new decade, ahead of its competitors. Maserati of Toronto is your local Ontario resource for the latest in everything Ghibli, so come visit us and experience this racetrack-ready performance as only you truly can, behind the wheel.
The V6 engine lays at the heart of the Ghibli, the home of all its power and performance capability, created to the height of automotive craftsmanship through the minds of the Ferrari factory in Maranello, Italy. What this means when you're behind the wheel of the Ghibli is unparalleled driving dynamics and handling rarely seen out of sports cars this nimble and quick. A sport sedan it may be, but ready for icy Toronto roads it remains, thanks to the S Q4 trim's intelligent AWD system, providing ultimate safety no matter the weather Canada wroughts. A 345 horsepower twin-turbo V6 exists on the base trim, while the 424 horsepower twin-turbo V6 is found on the S and S Q4 levels, for truly uncompromising performance.
Engine
3.0L twin-turbocharged V6
Transmission
Automatic 8 gears
Acceleration (0-100 km/h) (secs)
4.7
Fuel Consumption (combined) (L/100 km)
11.9 - 12.0
A sedan in technicality, but closer to a coupe in actuality thanks to its incredibly low-profile and slim design, the Ghibli is sculpted to the nth degree. Of course, the signature Maserati trident leads this sport beast ahead over a grille just as iconic. Exceedingly modern, but harkening back to the Maserati A6 GCS Berlinetta from the 1950s, featuring chrome bars that fit seamlessly into the bumper.  As gorgeous as the build is, we know you want a paint job that makes everything pop even more, and with 10 colour options like Blu Emozione, Nero Ribelle and Grigio, among a host of other can't-miss options, your Ghibli will stand out in the crowd as a true unique specimen.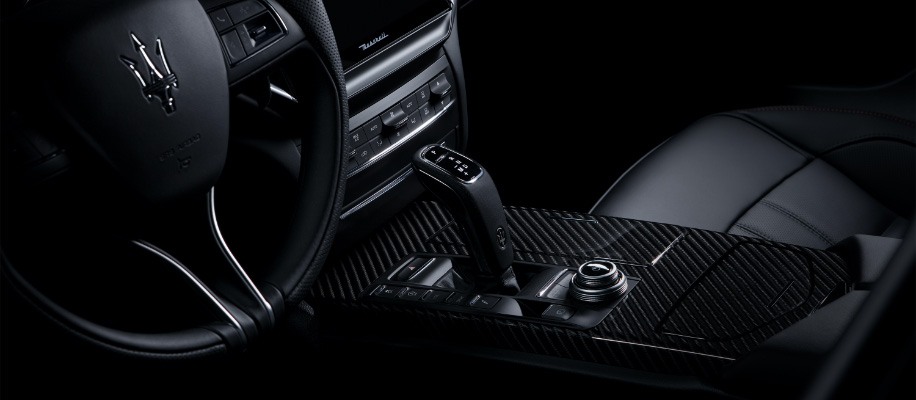 Italian Style
The traditional high quality Maserati Italian style is perhaps nowhere more present than within the interior confines of the 2021 Ghibli. Handcraftsmanship abounds across the cabin, ensuring you know the true care that went into producing each and every model, we mean it when we say these are unique sports cars.
Craftsmanship
Being the best of both worlds with a sedan build but coupe design style means that you won't be crowded for space inside, with exceedingly comfortable amounts of legroom for the driver and front passenger, while rear occupants will have all the head and leg space they desire.
Premium Materials
With trims like High-Gloss Carbon Fiber Twill and High-Gloss Rovere Veneer, to the natural leather, every accent and touch of the Ghibli is made to inspire and create comfort. This all creates refined luxury that meets a seamless transition into its technology pieces, blending elegant style with futuristic functionality.
Connection to the outside world is key nowadays, whether it's to your business or family, that's why the Ghibli ensures you stay close to those who matter, even when you're taming the roads in your sport sedan.
Maserati Touch Control Plus
The Maserati Touch Control Plus takes root as the centrepiece of the Ghibli's dashboard, easily controlled through simple touch mechanics on its interface, its rotary control or voice command.
Simple Connectivity
Apple CarPlay and Android Auto enables you to link up your phone, and access your personalized supported apps.
Standard Audio System
The S Q4 GranLusso and GranSport enjoy a standard audio system of the 10-speaker, 900-watt Harman Kardon.
Upgrade Audio System
For audiophiles who demand the best, the S Q4 GranLusso and GranSport enjoy a standard audio system of the 10-speaker, 900-watt Harman Kardon, with a further 15-speaker 1290-watt Bowers & Wilkins surround sound audio system available.
Advanced Driving Assistance Systems exist within the Ghibli for a one-of-a-kind safety experience that protects you whether you're just going out for errands, or taking your sport performance cross-country. Parking is a breeze when you have the surround view camera, rear cross path functionality and front and rear parking sensors to act as your assistance in notifying of obstacles and space. Highway driving has a ton of features at your disposal, classic cruise control has been anted up with Adaptive Stop & Go functions, as well as Forward Collision Plus, notifying the driver or acting to prevent a collision. The Highway Assist System combines the cruise control and lane keeping systems by centreing you in your lane and keeping distance from those ahead, a true helping hand on even the busiest of highways. Big on style, performance and safety is the Ghibli, ensuring no stone is left unturned for driver and passenger peace-of-mind.
As the prime Maserati dealer of Toronto, our dealership takes that mantle seriously, doing so by providing the tops in our new and used inventories, as well as our parts & service and body shop departments. Whether you're visiting us online, or in-person, we're happy to provide tailored and premium service, for a one-of-a-kind Maserati experience.